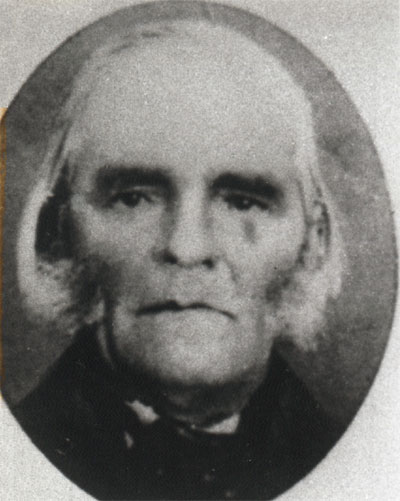 Written by his granddaughter Ella Grace Bown
July 12 thru July 15, 1963
Our name Bartholomew, because of the name of one of Christ's Apostles, has been adopted by all people who have become Christianized. Bartholomew is the English spelling of the apostle's name.
In the early part of the eighteenth century our ancestors came to America from Holland and our great-great-grandfather Joseph Bartholomew was born March 15, 1766, in the State of New Jersey. He married Christina Pickenpaw, and to this union ten children were born. He was a great warrior, being a general in the War of 1812.
From the Indiana Magazine of History we find that General Joseph Bartholomew was buried at Clarksville, McLean County, Illinois, the third of November, 1840, at the village founded by him.
Their third child, John, born in 1792, became our great-grandfather. In 1814 he married Nancy McKnaught. They lived in Spencer, Owen County, Indiana, and to this union six children were born. The third child, Joseph, was born January 16, 1820, and he became our grandfather. When he was seven years old his father died, and he was taken to be raised by his grandfather, General Joseph Bartholomew.
In his grandfather's family were some older sons who were in charge of their father's farm, and he felt that he was imposed upon by them and made to do the menial tasks. He was very unhappy about this, and at the age of twelve he wanted to get away from this disagreeable condition. His chance came one day when a group of travelers came by, who were headed for Missouri; so he joined one of the emigrant families by the name of Benson and moved with them to Missouri. He remained with them and became a member of this family. They traveled one thousand miles through Indiana, Illinois, and to the western borders of Missouri. They did not remain here long until the mob drove them out of Jackson County across the Missouri River, and they went into Illinois.
He was baptized a member of the Church of Jesus Christ of Latter-day Saints on the fourteenth day of August, 1841, and removed to Nauvoo in 1842, assisting in the erection of the Temple. On the tenth of December, 1843, he married Polly, one of the Benson daughters, and they lived in Warsaw, Illinois. On the twentieth of August, 1844, twin boys were born prematurely and were named Joseph and Hyrum. The babies lived only a short time and were buried in the Warsaw cemetery. On September 11, 1845 a son John was born.
Joseph and Polly Benson Bartholomew knew and loved the prophet Joseph Smith. After he was murdered, mobocrats, because he was a fearless man and a good worker, offered Joseph work and at a higher wage to work for them than he had ever received, but there was just one stipulation-he must quit the Mormons. He refused. Straightening to his full height, he said, "That I will not do. I could not if I would, because I know it is true." When he was preparing to move from Illinois, they told him if he attempted to leave there would be some shooting take place, and he answered, "If there is, I will be doing some of it."
When John was five months old, during the cold spell in February, 1846, when the Mississippi River was frozen over, Joseph put his wife, Polly, and their son in a wagon with supplies for the journey, and she drove the oxen across the river while he followed behind carrying his trusty shotgun. The mob watched from the shrubbery on the bank. Not a shot was fired, and they crossed safely to the Iowa side. This is the only time in history that the Mississippi River has been frozen over solid so a wagon and team could cross on the ice.
In Iowa they tilled the ground and planted crops and helped the Saints prepare for the trip West to Utah. They planned to be numbered with this first group of emigrants, but shortly before they were to leave, one of their oxen sickened and died, leaving them stranded. Had they started at this time, their daughter Mary K. would have been born enroute, as she was born April 29, 1847, and the first company left in April. A son, Joseph, was born the fifth of January, 1850, and George M. was born the fifth of November, 1851.
In the spring of 1852 wagons and teams and provisions were readied to make the journey to Utah, crossing the plains in an "Ox Train" company. They crossed the Missouri River the tenth of June and were there met by apostle Ezra T. Benson, who organized a company of fifty wagons. A Brother Joseph Outhouse was chosen captain. The company subdivided into tens with a captain over each ten wagons, and Joseph Bartholomew was chosen a captain. John Spiers was chosen chaplain and prayers were held each morning and evening, and thus the journey was begun. All went well for a few days, then Captain Outhouse became offended at something and threw up his commission and declared that he would no longer lead. It was then agreed that the captains of tens should form a committee to direct the order of travel over the plains, but as the feed for the teams was not always plentiful, it was thought best to travel in smaller companies, therefore, each ten formed a traveling company. This was somewhat risky and, had the Indians been hostile, might have proved serious; however, what Indians they saw were friendly and everything passed as comfortable as such a journey could and without serious sickness or loss. They arrived in Salt Lake City on the sixth of September, 1852. They traveled in the fourth company.
They were invited to dinner with some of the Saints, who served them watermelon among other things for dinner. They remained here one or more nights before going to Provo where Polly's brother Jerome and family and her mother Kaziah Benson lived and had built a large adobe house, with upstair rooms, on the Provo river.
While the family visited here in Provo, Grandfather was preparing a home in Springville, and they moved there as soon as it was ready for them. The log house, which he built, is still standing. He was a pioneer of Springville and surveyed and helped make roads, trails, etc. One of the canyons is named for him and is known as the Bartholomew slide" and is still in evidence. They lived here for nearly nine years and while here twin girls, Elizabeth Almira and Eliza Elvira, were born July 25, 1854, William Orange born September 6, 1856, and James Orson December 29, 1858.
In answer to a call from church leaders Grandfather and family and Grandmother's sister Electa; James Mellor, Sr., and family; Jacob McCurdy; Ira Draper and Wellington Wood families left Springville in the early spring of 1861 for Warm Creek, a little valley made beautiful with a spring of crystal clear water, which flowed from an opening in solid rock in the west side of one of the foothills east of this little valley. This stream ran west from the spring, spreading out as it wended its way to the Sevier River and leaving in its wake beautiful meadows of grass dotted with flowers and the home of much wildlife.
Scouts sent out by President Brigham Young had discovered this valley with its spring of clear water and had reported back that with some effort the water could be used fo irrigating the fertile soil. As President Young was ever looking for places to make new settlements where the Saints could make a livelihood, he called these families to this valley.
The journey took a week in the covered wagon with ox teams, bringing all their possessions with them, including cows, calves, pigs, sheep, chickens, and household furnishings. It was near the close of the day when these travel-weary families arrived in this valley on the eighth of April 1861. Indians claimed that they owned this valley and Grandfather Bartholomew made a treaty with the Indian Chief Sanpitch and traded an ox for the valley.
When the Black Hawk Indian troubles began, Grandfather Joseph and his three older sons were enlisted and served as soldiers during that war. Grandfather was a lieutenant, being in the Salina and Grass Valley engagements. He had also served in the Black Hawk Wars of Illinois and Wisconsin in 1832, though only a boy. He was an old frontiersman and a much respected pioneer. He taught one of the first schools in Warm Creek and taught spelling at night in his home. He enjoyed the distinction of being the only merchant in town, having a small store and stock of general merchandise. He managed and operated the Co-op Store when it was first established. He also helped build the first schoolhouse and church buildings.
Their first home there was the box lifted off the wagon and set on the ground. Later they built a large log room and also occupied a large dugout, which had been made by the Huggins family before they became discouraged and moved way.
In 1861 Bartholomew and Mellor moved to Hog-Wallow to live in the fort, while some betook themselves to other parts. Several moves to the Fort were necessary to be safe from hostile Indians, and at one time the big log hose was moved and reconstructed in the Fort. When dangers from Indians were considered at an end, the log house was returned, and it, with the big dugout room, housed the Bartholomew family until about 1870 when a rock house was constructed. It still stands, but has been remodeled and stuccoed and is occupied by a grandson and family, Ray C. Bartholomew, son of Joseph, Jr.
Joseph Bartholomew was an ardent church worker and served as a ward teacher for many years. He often attended Sunday School and Sacrament Meeting in Dover and visited with the Robinson family there.
He was a very particular farmer, stockman, hunter, etc. He considered that anything worth doing was worth doing well; always up with the dawn and together with his sons off to the field, while his neighbors were still sleeping. During the heat of the day tools were repaired and other less strenuous jobs were taken care of, then back to the field again.
The girls milked the cows and tended the sheep and calves.
He was very industrious and a good provider. The family always had a good home with plenty of food, clothing and other necessities. Across the street east of his home was a camp house where travelers were always welcome. Church leaders traveling to communities in the southern part of the state made Warm Creek a stopping place and were always welcome at the Bartholomew home.
About seven miles north and east of this community, Grandfather Bartholomew took up land and established a fine farm. Water from the canyons to the east flowed into this valley and was used for irrigation. It was know as "Flat Canyon." He and his sons were great hunters and trappers as well as soldiers. He always harvested abundant crops, plenty for food, seed and some for his less fortunate friends and neighbors.
On one of his birthdays his daughter Mary, who was living across the Sevier River to the west in Dover, took him to her home to help her for a few hours. He had said no one could surprise him with a party on his birthday-so here was the opportunity. Everything was in readiness, the table all set and a fine dinner prepared before they returned. His children and grandchildren were in the dining room, hiding on the floor by the table, the window blinds were drawn. When they returned, he came straight to the house, opened the door, walked in, and we all bobbed up, shouting "surprise." He was truly surprised. That was a wonderful party.
On one occasion Mary came with horse and buggy from Dover, and her father went to take care of it for her. As he was unhitching the horse from the buggy, it kicked him on the leg near the knee. No professional help was available and his leg became very swollen and gangrene set in, causing his death on the twenty-eight of May, 1911. He was buried in Fayette cemetery a few days later. The entire community mourned his death, for he was a fearless, ambitious, and truly, a sturdy, kind, generous pioneer.
He built the first house in Fayette in 1861.
Sources of Information:
1. Bartholomew History, by George Wells Bartholomew, Jr.
2. History of General Joseph Bartholomew, by George Pence, Columbus, Indiana, March 15, 1869.
3. Life Sketch of Alvali Benson (Brother of Polly Benson Bartholomew) by himself, written in 1879.
4. From Journal of John Spiers, on file in Historian's office.
5. Mary Kaziah Bartholomew (a daughter)
6. Elizabeth Almira Bartholomew (a daughter and my mother)
7. From information in Church Historian's office.