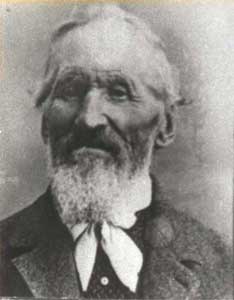 by Elsie K. Bartholomew

Christen Christensen was born July 29 1817, at Flarup, Thisted, Denmark, a son of christen and Maren Christensen. He was a prosperous farmer, owning a comfortable house. He and his wife Karen Lauritzen were investigating the many religions of their time, but none seemed to them to conform to the teachings of the Bible.

One day, two Mormon missionaries came to their home, leaving some tracts. When they read the, his wife said, "These correspond with the teaching of the Bible." A little later, the whole family joined the Church except the older son. Those that were old enough, were baptized May 1, 1865. Then grandfather sold his estate for a good sum of money, spending most of it in bringing Saints to Utah. (Also paid indebtedness of local branch)

Those who came with him ere his wife, Karen, their second son, L.M.C. Christensen and his bride of little over a week, Elsie Katherine Christensen, their daughter Mary, also just married to the young missionary who baptized the, Lars Myrup; and three younger children - Pauline, 9& 3/4, Petrine, 7, and Nielsine, 3.
Set sail on "Kenilworth" with 684 passengers, beside crew, on May 25, from Hamburg on Elbe river. Wife, who was in poor health when they started, died on June 23, and was buried at sea, with much solemnity. Arrived in New York harbor, after 58 days on board.

They then took round-about train trip through New England States and Canada. Train ran off track on north shore of Lake Ontario. "None of the cars toppled over, and in the morning, all realized that it was only through the kindness of an all-seeing Providence that a terrible railway disaster had bee avoided."
They traveled by way of Chicago, Quincey, etc. to St. Joseph, Missouri - after 1700 miles of railway travel. "Neither before or afterward, as far as is known, have any European emigrants traveled this route." (Saved $5.00 for each passenger)

They went from St. Joseph to outfitting post in Nebraska, by steamship. Arrived July 19, 1866. Traveled across plains with ox train. Reached Salt lake city, October 22nd.

Among the 27 persons Christen Christensen helped financially to come to America was Hans Jensen and wife and three children. Both parents died on the plains of cholera. Friends took children, when they reached Salt Lake.

Family lived in Fountain Green first winter. Christen christensen here married Annie Jensen. (They had 6 children)

Family then lived in Manti three years, then Gunnison, then Maryfield (with United Order), then back to Gunnison. Loss of property while n Order, left them in ver poor circumstances.

Was farmer by trade. Also delivered salt. Very particular about housing and feeding animals.

When Manti Temple was first finished, he and his wife went from Gunnison to Manti by team every Tuesday, and came back on Saturday. Took provision with them, and camped. Worked for dead. Did this for many weeks and years, when not too busy on farm.

He wrote to folks in Denmark once a year - telling them everything that happened during year. Took notes all year, then spent days writing letter.

After 20 years Jensen orphans paid for transportation -

Christen christensen had a very happy and lively disposition. Young people gathered around him to hear him tell stories. His children celebrated his 70th birthday, with whole family present. He turned handsprings for children. None there could do what he did. He was a good mixer. Loved to dance, which he did very nicely.

He died in Gunnison November 24, 1899. Funeral held outside home, as whole town was quarantined for smallpox.

Andrew Jensen remembered him as a philanthropist, who spent means liberally, towards emigration of his co-religionists.