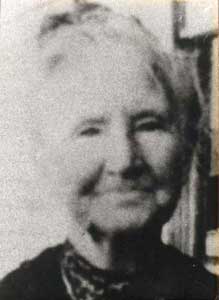 Notes about Elsie Katherine Christensen
by A. H. C. (Albert H. Christensen)
In her young days, she was of medium stature (tall?). Had a very happy disposition. A general favorite with her family and friends.
Ice broken from stream, when her baptism took place. On account of her actions, and while she was not in any sense driven from her home, she was made to feel their great disappointment, and in order to save them from extreme embarrassment that she had caused them by joining this very unpopular sect, she left home and found employment in the home of what later proved to be her husband's family, Christen Christensen. The Christensen family at that time was among the wealthier class of families in that part of Denmark. Later most of the family joined the Church."
Christen paid the passage for 31 people, including his own family, to Utah, and loaned a considerable sum of money to returning missionaries.
Elsie Katherine Christensen, with others, walked across the plains in the company known as the Abner Lowry company. They arrived in Sanpete county in the late fall of 1866, and located at Manti. Two children were born at Manti, C.I. Christensen and A.B. Christensen.
She always had an intense love for education. As soon as she arrived in the U. S., she set about to learn to read. Succeeded in very short time. Took interest in public matters, especially in the health of the people of the community, and in the education of her children. Two older boys taught to read at home. When they started to school they were able to commence in Third Reader.
She taught children while carding and spinning. Her love of education accounts for fact that every member of the family of ten, except the oldest, had some college training.

Medical Experiences of Elsie Katherine Christenson
by A. H. Christensen
While living at Mayfield, she had sickness in the family. The oldest son became seriously ill. There were no doctors and she had little knowledge of the rules of health, so as soon as he recovered, she and her husband arranged that she was to go to Salt Lake to seek training in obstetrics and such medical knowledge as she should be able to obtain. Her husband took her to the end of the railroad in the northern part of Juab Co. (several days journey). She went to Salt lake and remained six months. Acquired splendid attainments - knowledge of obstetrics and general practice of medicine, as understood at that time. (Marginal Note: In her doctor's book, she states that she started to take lessons from Sister N. Olsen in Salt Lake city, May 12, 1879)
The lady from whom she received her training became very interested in her. When she arrived, the aged doctor said, "I have had many apply for my knowledge of medicine, but I refused them all. I was waiting for the right person to come and I have found that person in you." She stayed in the doctor's home for the entire six months. The aged lady spent practically all her time in transmitting to her all the knowledge she had. Gave her all her books and recipes for all her home remedies.

When she returned to Mayfield, she became the community doctor. Was called into service, not only for obstetrics, but for every kind of ailment. She made her service one of love and mercy. Family moved to Gunnison in 1880. She was only person in southern part of County with any medical knowledge, and her services were utilized from Salina on south to Sterling on north. Family became accustomed to hearing wagons drive up at all hours of day and night, and in a few minutes she was on her way. Always kept medical kit prepared. Upon organization of town of Gunnison, she became town physician, and served in that capacity for some time.
She bore 11 children, two of whom died in infancy. Adopted two others. With all her work, she did not neglect her family. The health and education of her children were her first concern. Took great interest in public affairs. Never missed an opportunity to vote - after she was accorded the right.
In 1890, she returned to Denmark to visit her family, taking with her an adopted child. Family celebrated return of "lost sister." She stayed three months. Made second trip in 1910 - with husband.
(Notes from Mrs. C.)
Elsie K. Christensen borrowed money to go to Salt Lake because of a very vivid dream. Knew where to go when she arrived. Old lady doctor (educated in Copenhagen) had also had dreams, so recognized her as the one she had been looking for. Old lady died soon after she gave information.

SERVICES FOR PIONEER WOMAN TO BE HELD TODAY
November 23, 1923
Passing quietly away at her home last Sunday night, Mrs. Elsie Katherine Christensen ended peacefully a 76-year career of active service. "Do good to those in need" seems to have been her guiding motto, for a careful study of her history shows her activities to have been directed along these lines. From her earliest childhood, she has been devoted to service.
She was born in Thisted, Denmark, February 9, 1847, the daughter of Andrew Christian and Mette Christine Hvid Christensen. Early in 1865, she was baptized into the church, and on April 22nd of the following year, she married L. M. C. Christensen. The following month, the new couple left for America, leaving home and family for the sake of the Gospel.
They arrived in Manti, in October of that year, having endured the hardships of the sailing vessel on the ocean, and the ox team across the plains they moved to Gunnison from Manti, and then became associated with the United Order at Mayfield - later moving back to Gunnison, where they spent many years. Later they moved to Manti, then to Salt Lake, and finally back to Manti, which has been their home since.
They reared nine children and two foster children to maturity. They have 54 living grandchildren and 5 great-grandchildren.

Mrs. Christensen has been a devoted mother to her family, wife to her husband, and ever ready to give service to her Church, and to those in need. She was the first doctor-nurse in Gunnison valley, and served in the Relief Society, both as an officer and teacher. Also in the Primary Association. She has been especially devoted to the gathering of her genealogy, and has a record back to the fifteenth century. She has made two trips back to her native land, once alone and once with her husband, to gather genealogy, and has devoted years of service in the temple to work for her dead relatives and friends.
She is survived by her husband and the following children: Andrew B., Salt Lake, Joseph C., Gunnison; Albert H., Manti; Mrs. Elsie K. Bartholomew, Goshen; Mrs. Emma E. Peterson, Gunnison; Louis D. Evanston; Arthur M. of Gunnison; and Elvira Clark, Goshen; and Mrs. Tessa Lacy, adopted daughter, Exeter, Cal.

Notes from DUP Membership papers (Elsie K. Bartholomew)
My mother was the only member of her family to join the Church, and for that reason was disowned by them. She and her husband went to America with Christian Christensen, her husband's father. At the age of seventeen she left a home of wealth, the privilege of being educated in college, and her loved ones for the sake of the Gospel.
Father acted as minute-man during the Black Hawk troubles.
Because of Father's poor health, mother needed some means of supporting her family. She went to Salt Lake and took a course. She was the first doctor-nurse in the valley, and brought over 1500 babies to this world.
Seven of the nine children were given the opportunity of attending the BYU in Provo.