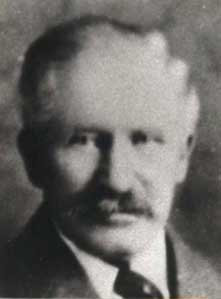 Of Grandfather Christensen
Grandfather was born 22 July 1847, just two days before the first pioneers reached the Great Salt Lake Valley. Little did he know that he and most of his family would follow their route some 44 years later, walking most of the way as part of his and Else "K's" honeymoon.
His father, Christian, a wealthy land owner, and his wife and family had all joined the Church in Kobberod, Thisted, Denmark, except for his older brother who remained in Denmark. His mother and her unborn babe were buried at sea. In process of their long journey form New York to Wyoming, Nebraska, Christian's gold pieces and two well-stocked trunks were stolen, leaving the family nearly destitute. When they arrived in the Valley, they were sent to help settle dry, dusty Sanpete county with other Scandinavian saints-such a contrast to their rich, green homeland.
My only clear memory of Grandfather Christensen is from his and Grandmother's visit to Starr Ranch when I was turning six. My life centered in farm life and horses, especially my little bay mare, Queen, given me by my father. Grandfather was sitting on the porch swing and I was telling him of the new colt that had just been born in the barn. Being a little hard of hearing, he thought I had said that I had a cold, and answered in his rich accent, "Ah, daat's too bad."
Committed to the redemptive work for the dead, he worked on the Manti Temple and when Grandmother Else "K" made a trip back to Denmark with my parents to research their genealogy, he and the older children managed the home. Later he went with her again.
He and the children also supported her when she studied midwifery in Salt Lake.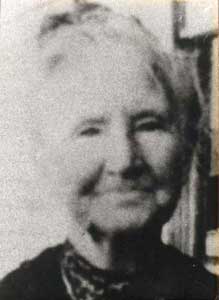 Of Grandmother Else "K"
When Else "K," a teacher in Denmark heard the gospel, she believed with all her heart, and, upon her decision to be baptized, was disowned by her parents and ostracized by her friends. Happily, she found employment as tutor to the children of Christian, father of Lars Mathias, whom she was to marry before leaving Denmark for Zion.
I remember her kindly, compassionate face which drew me to her with love and her long garden path bordered by giant sunflowers, from which I could extract seeds.
She was very fond of pie for breakfast and would say to Mother when we visited, "Little Sarah, do you think while you are here that you could make one of your lovely pies?" Of course Mother, who loved to cook, would make several, delighting in Grandmother's enjoyment of them.
Perhaps it was her compassion, or maybe her practical nature that saw the great need for a doctor in her pioneer community. Certainly there was divine direction as well, for she dreamed she saw Nicoline Olsen, doctor of obstetrics, and knew of a certainty that she, Else "K." would be accepted as her pupil. With her family's support, she became qualified to practice midwifery in Sanpete county. In the years that followed, she delivered over a thousand babies, including one of two sets of her own twins.
She and Lars reared eleven children and two foster children. At the time of her passing at age 76, they had 54 living grandchildren and 5 great grandchildren. Certainly she deserved to "pass quietly away at her home" on Sunday night, 19 Nov. 1923.